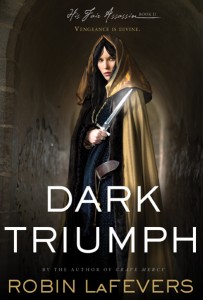 I just received word that DARK TRIUMPH ARC's have arrived at the publisher! Yay! And eeeep!
As promised, here is information on how to request one. Please note: I do not have any. And when I get some, it will be a very small amount, usually enough to give my local booksellers and to host a contest or two. So if you email me asking me for one, the answer will likely have to be no. You will have much better chances with Houghton Mifflin's publicity department!
To request an arc, email Houghton Mifflin Harcourt's publicity department.
To expedite your request, I suggest linking to your blog and mentioning your blog stats. You might also link to your GRAVE MERCY review, if you reviewed it.
Aaaand, while we're on the subject of ARC's, I wanted to talk about them in general. I remember there was a discussion about ARC's in the blogosphere a few weeks ago and I remember learning that some ARC readers were fairly surprised (and sometimes unforgiving) about errors or typos or awkward language, reasoning that the publisher shouldn't send the ARCs out if they're not ready.
So I just want to remind you all that absolutely ARCs will often have errors in them, and there is often no way to avoid that, although since each copy edit and set of galley proofs get at least six read throughs, you'd think there would be. But there isn't–which also why in addition to first pass pages (the first set of galley proofs) there are also second and third pass pages. Also, sometimes small continuity type things show up only after everything else has been smoothed out and fixed, so then those corrections need to be made as well.
For example, DARK TRIUMPH's ARCs were made straight from the copy edited manuscript. The only problem is, there there were a number of instances where I changed wording during the copy edits, and when the new verbiage was corrected on the electronic copy, not all of the old verbiage was deleted. I solemnly swear to you, I did not think "if I was my father's daughter flowed in my veins" was well constructed phrasing. (Yes, that really is in the ARC.)
In GRAVE MERCY, the publisher learned they had to move up the pub date by three weeks which provided us with a nearly impossible decision: Print ARCs from the non-copy edited manuscript (akin to waltzing before everyone in my rattiest pajamas) OR accept ALL copy edited changes–knowing there would be awkward phrasing, anachronistic terms used by the copy editor, and phrasing or words that were simply suggested changes rather than approved by anyone. We compromised and I entered one of the longest weekends of my life where I did a frantic copy edit scan, looking for the most egregious phrasing and anachronistic terms or simply awkwardly changed language. But it was a 550 page manuscript and my proofing skills are only human. Plus many of the changes often require time to consider. Now that we've identified something that clunks or is incorrect, IS the new wording the best way to rephrase it? Sometimes yes and sometimes no.
ARCs have such an enormous lead time (six months) due to the requirements of the print review journals such as PW, Booklist, SLJ, Kirkus, and Horn Book, to name a few. In order to assign the ARCs to reviewers, have them read, reviewed, and then be included in their print edition of their publication before said publications are sent to the printer simply requires six months lead time. Book bloggers receiving ARCs is a fairly new component (and HUGELY WELCOME!!) but clearly the timeline makes no sense for blogs as they do not require the same amount of lead time.
And therein endeth my explanation about ARCs.
{ 2 comments }