DARK TRIUMPH, she is done–whisked away to copy editing just in time. Of course, it will be back on my desk in two weeks and I will then need to go through it with a fine tooth comb, a pair of tweezers, and many brightly colored pens and post-its, but until then, I can call it done.
Truly one of the best feelings in the world. Especially with regard to THIS book, The One That Nearly Killed Me.
It's not that I can't write a 400 plus page manuscript in nine months. It's just that it takes me  a minimum of six or seven drafts to produce a book that I'm happy with, and writing SEVEN drafts of a 400 plus page manuscript in nine months is a bit of a pressure cooker.
(And lest you doubt that I have been truly working, here is the evidence:*)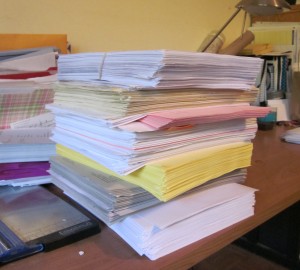 Note to Universe: In my next life, I want to be a more efficient writer.
And before you ask, word on the street is that ARCs will probably start going out in late September/October.
Also, I have made a Pinterest Board for Grave Mercy and will be starting one soon for DARK TRIUMPH.
* And please ignore the messy desk. That was the first thing I did once I finished the book–cleaned off my desk!
{ 6 comments }