Grave Mercy: His Fair Assassin Book One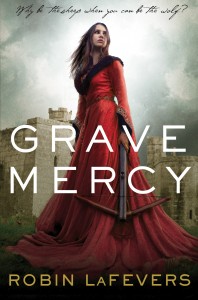 GRAVE MERCY
By Robin LaFevers
Houghton Mifflin Books for Children
Hardcover: 978-0547628349
Paperback: 978-0544022492
April 3, 2012
Why be the sheep, when you can be the wolf?
Seventeen-year-old Ismae escapes from the brutality of an arranged marriage into the sanctuary of the convent of St. Mortain, where the sisters still serve the gods of old. Here she learns that the god of Death Himself has blessed her with dangerous gifts—and a violent destiny. If she chooses to stay at the convent, she will be trained as an assassin and serve as a handmaiden to Death. To claim her new life, she must destroy the lives of others.
Ismae's most important assignment takes her straight into the high court of Brittany—where she finds herself woefully under prepared—not only for the deadly games of intrigue and treason, but for the impossible choices she must make. For how can she deliver Death's vengeance upon a target who, against her will, has stolen her heart?

To read the first chapter, click HERE:
A Booklist Editors' Choice
An Amazon Best Book of the Year
A Publishers Weekly Best Book of the Year
A Kirkus Reviews Best Book of Year
A Book Page Top Ten Summer Reading Book
A Top Ten Indie Next Pick
What Others Are Saying:
"A delectable simmer of intrigue and ferocity, passion and compassion. Grave Mercy sates and fascinates, even as it leaves you craving more." —Cynthia Leitich Smith, New York Times bestselling author of the Tantalize series
"Grave Mercy is a fantastic novel by a master storyteller—chilling, deftly plotted, and with a thread of subtly crafted romance. readers will be seduced by LaFevers's deadly snare of haunting magic and courtly intrigue in this gorgeously written historical fantasy." —Elizabeth C. Bunce, author of A Curse Dark as Gold and StarCrossed
"Atmospheric, romantic, and gripping."—Laura Whitcomb, author of A Certain Slant of Light

–BOOKLIST, Starred Review
LaFevers has written a dark, sophisticated novel true to the fairy tale conventions of castles, high courts, and good vs. evil, yet it's spiced with poison potions, violent (and sometimes merciful) assassinations, subtle seductions, and gentle, perfect love. With characters that will inspire the imagination, a plot that nods to history while defying accuracy, and a love story that promises more in the second book, this is sure to attract feminist readers and romantics alike.

KIRKUS, Starred Review
Fiction and history coalesce in a rich, ripping tale of assassinations, political intrigue and religion in 15th-century Brittany…LaFevers' ambitious tapestry includes poison and treason and murder, valor and honor and slow love, suspense and sexuality and mercy.LaFevers' ambitious tapestry includes poison and treason and murder, valor and honor and slow love, suspense and sexuality and mercy. A page-turner—with grace.

PUBLISHER'S WEEKLY, Starred Review
Middle-grade author LaFevers (the Theodosia books) makes an outstanding foray into historical romance with an enthralling recreation of 15th-century Brittany…Rich in historical detail, well-realized characters, political machinations, and enticingly prickly scenes between Ismae and Duval, LaFevers's complex tale incorporates magic both sparingly and subtly. This powerful first volume of the His Fair Assassin series should attract many readers.

SCHOOL LIBRARY JOURNAL, Starred Review
The book is well written and filled with fascinating, complex characters who function realistically in this invented medieval world."
Despite Ismae's ugly past and her preoccupation with murder, Grave Mercy isn't heavy reading. It's darkly funny, a fantasy based on the rough contours of history, one that develops into an adventuresome…romance.—The New York Times Book Review
"LaFevers is an artful storyteller who has created a strong lead character….The tale is one of scheming nobles, political subterfuge, murder, and romance—all of the best aspects of a good read. And like any good mystery, the plot is unpredictable." –VOYA
"In both seduction and genuine emotion, the romance between Ismae and Duval far outranks the typical push-and-pull relationship often encountered in YA, and Ismae manages to maintain her identity while coming to own her sexuality. Her narrative voice moves from strong to vulnerable as the situation warrants it, and readers will immediately warm to Ismae's determination to think for herself despite the powerful influences of multiple others.–Bulletin
Barnes and Noble Teen Pick, April 2012
Amazon Best Books of the Month, April 2012: Seventeen-year-old Ismae was fathered by Saint Mortain, the God of Death, and one dark and stormy night, she is brought to a mysterious convent where his many daughters are trained as assassins. When she is given an important assignment to protect the Duchess of Brittany and kill the traitor in her court, Ismae begins to learn that being a handmaiden of Death may not mean what the nuns taught her. But her burgeoning independence comes with consequences, and the fate of an entire country–and the only man she could ever love–hangs in the balance. Set in medieval France with historically accurate details, Grave Mercy is the first book in a gritty, fast-paced trilogy, and gives thrilling new meaning to the term "girl power."